Stroll down memory lane with East Treasure—where tradition meets modernity. East Treasure Chinese Restaurant is nestled in the heart of Clarke Quay, bringing you exquisite and mouth-watering Chinese cuisine conceptualised by our very own Master Chef. Only the freshest ingredients are used; therefore all dishes are light on your palate, yet packed with flavours all at the same time. Awaken all your senses with our most-raved dishes, such as our 60-hour dry aged roasted duck that is dry-aged just right with our in-house dry-ageing cabinet. As you sink your teeth into the roasted duck's golden brown crispy skin, you will realise that every hour spent dry-ageing it is just worth it. Other must-try dishes include the double boiled tonic soup with crocodile meat, chili and white pepper crab, as well as our wagyu beef specialities.
Our restaurant charms your palate and our cosy and nostalgic ambience makes you feel right at home. There is nowhere else quite like East Treasure—each moment spent here is a memory you will treasure forever.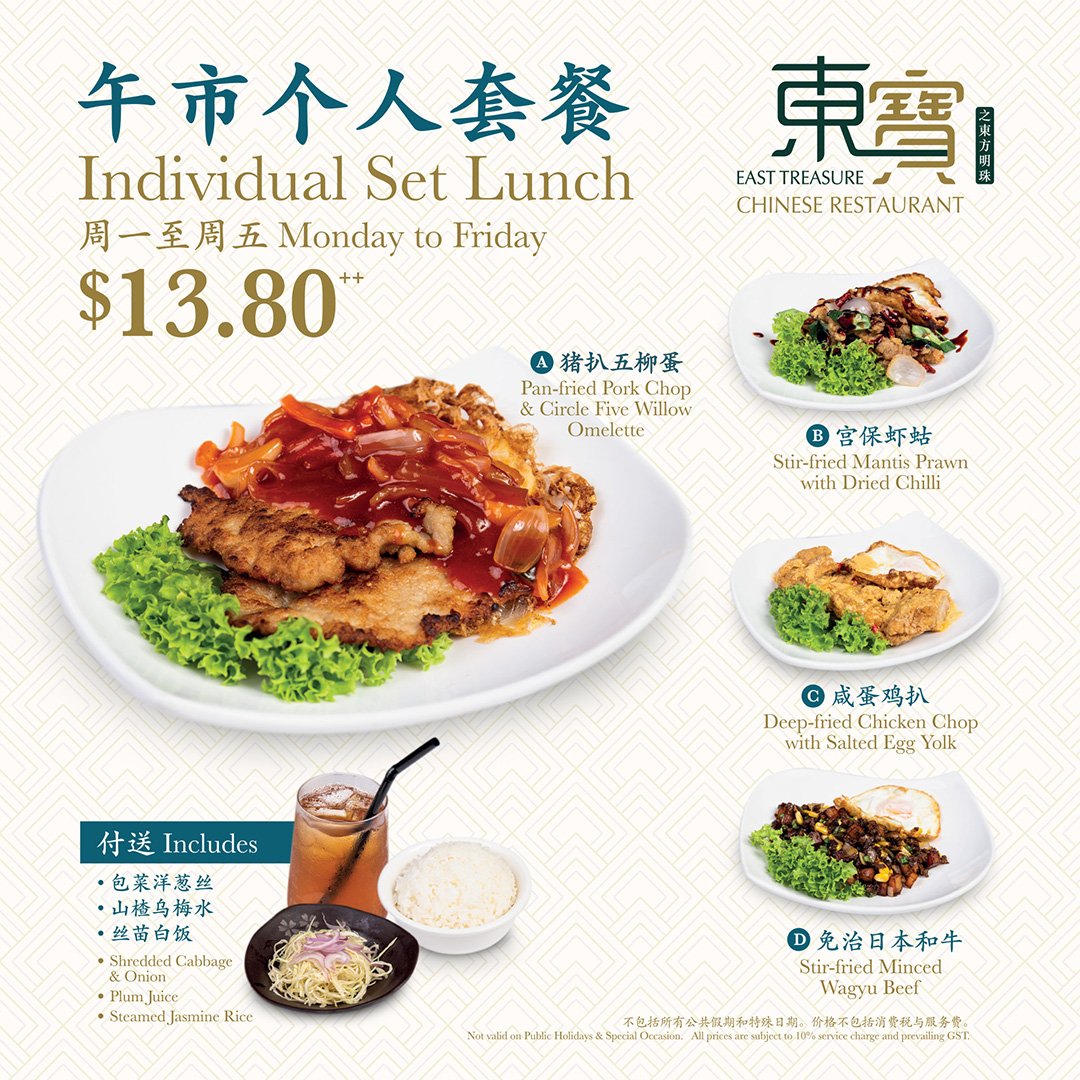 午市个人套餐
Individual Set Lunch
At only $13.80++, pick your main course and enjoy complimentary
• 包菜洋葱丝 Shredded Cabbage & Onion
• 山楂乌梅水 Plum Juice
• 丝苗白饭 Steamed Jasmine Rice
Set A – 猪扒五柳蛋 Pan-fried Pork Chop & Circle Five Willow Omelette
Set B – 宫保虾蛄 Stir-fried Mantis Prawn with Dried Chilli
Set C – 咸蛋鸡扒 Deep-fried Chicken Chop with Salted Egg Yolk
Set D – 免治日本和牛 Stir-fried Minced Wagyu Beef
Valid at both Woods Square & Clarke Quay outlets.
Not valid on Public Holidays & Special Occasion.
All prices are subject to 10% service charge and prevailing GST.
New App
coming soon...
ASTONS would like to thank each and every one of our loyal customers for being alongside our journey so far. We are extending our gratitude to you with our ASTONS app that is right in the pipeline, coming soon to you! Expect these exciting features in our app:
QUICKER ORDERING: we know that queuing to get into our restaurants takes a while! Order through the app while you are queuing so that you may make your payment once you reach the counter. Kindly take note that this feature is only available in-store and you may not order from your residence.
EARN & REDEEM: earn loyalty points as you journey on with ASTONS! This feature applies to all brands under our group islandwide (click on Other Astons Brands to find out more). Every dollar spent will be converted into points, which you may accumulate and redeem for items in the future!
Check back on this page frequently as our app will be ready soon.